Verzorgt u zelf de btw-aangifte en heeft u een correctie hierop, oftewel een suppletie? Vanaf 1 januari 2018 kunt u een suppletie alleen nog maar digitaal doorgeven aan de Belastingdienst.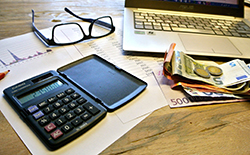 Heeft u in uw btw-aangifte te weinig of juist te veel btw aangegeven, dan moet u dit corrigeren middels een suppletie. Dat kan vanaf 2018 alleen nog maar digitaal. Dat heeft de Belastingdienst onlangs laten weten. Het indienen van een suppletie kan door in te loggen als ondernemer op de internetsite van de Belastingdienst of met gebruikmaking van eigen software. Ook wij kunnen uw suppletie digitaal voor u indienen.
Kleine correcties
Voor kleine correcties hoeft u geen suppletie in te dienen. Het gaat dan om een bedrag van € 1.000 of minder aan te veel of te weinig opgegeven btw. Deze btw mag u verwerken in uw eerstvolgende btw-aangifte. U krijgt dan van de Belastingdienst geen teruggaafbeschikking of naheffingsaanslag.
Bron: SRA